About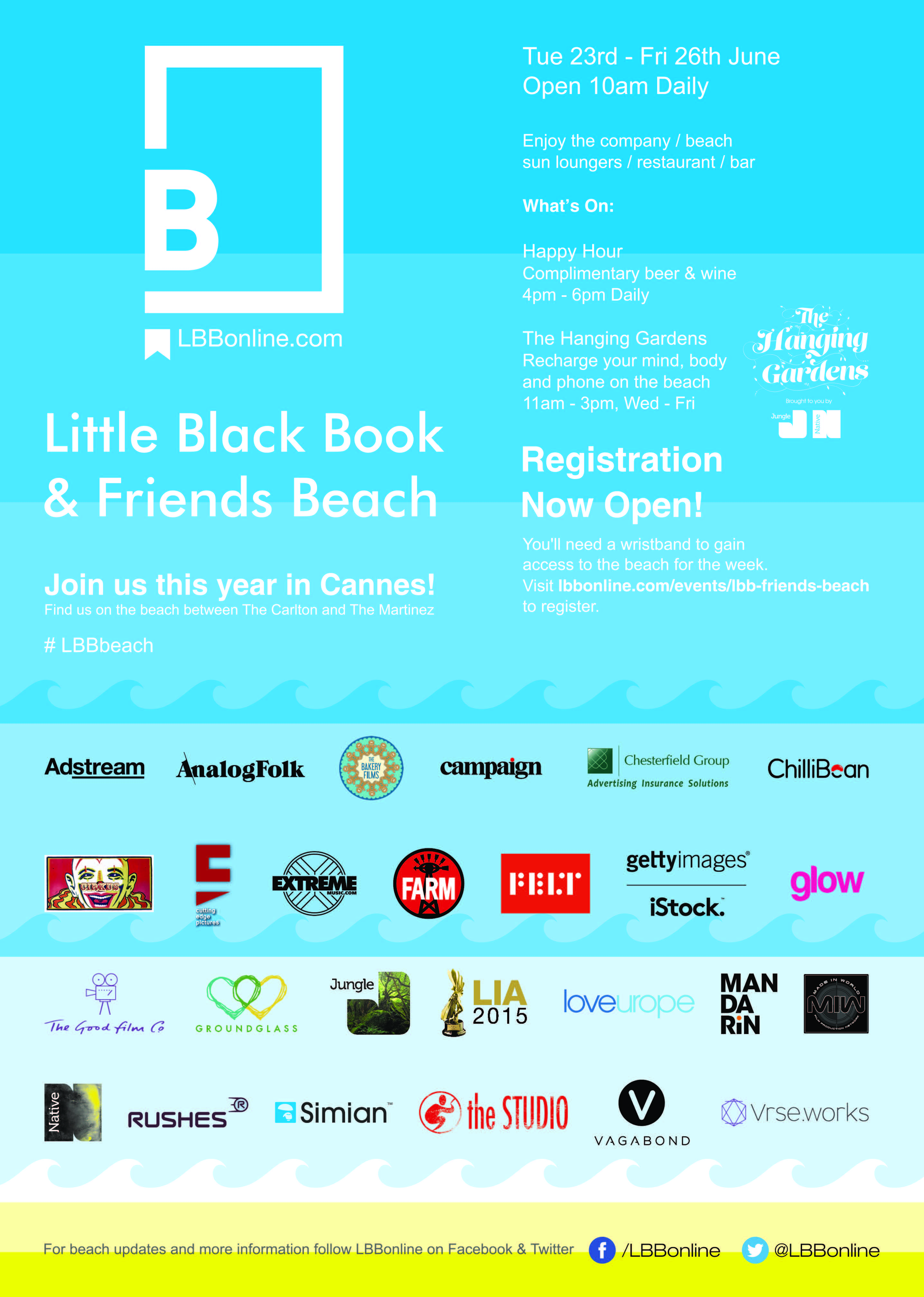 The LBB & Friends Beach is heading into its 6th year on the beach in Cannes, we're gearing up for what we think will be our biggest and best year yet. Come and join our wonderful co-hosts and mix with the crowd. You'll need a wristband to gain access for the week so please ensure you register. You'll receive this when you first arrive at the beach.
Open Tuesday 23rd June - Friday 26th June, 10am - 6pm
Say 'hello' to the fabulous hosts:
Extreme Music, Groundglass, Rushes, LIA, Vagabond, Chesterfield Group, Jungle, Native, Simian, Bakery Films, Loveurope, The Good Film Company, The Studio, Farm Films, Cutting Edge, Glow Media, Getty Images, Adstream, Made In World, Felt Music, AnalogFolk, Mandarin Media, VRSE, Chillibean & Cirkus.

Little Black Book and Friends are taking over the Croisette Beach, located on La Croisette, between the Carlton and the Martinez. Look out for the flags, banners, signs and heaps of global advertising people crowding the loungers, networking, eating, drinking and relaxing.

We offer the LBB Community, our co-hosts and their guests a beautiful place to call home for the week of Cannes with free sun loungers, a full restaurant and bar at your disposal with brilliant and friendly staff - The Hanging Gardens will also be back, encouraging you to recharge your mind, body and phones!

You can't miss Happy Hour every afternoon between 4-6pm for beer, wine and lots of fun on us.
NEW this year we'll have Lounge Sessions during Happy Hour - here's who's playing
Wednesday: Bondax

Thursday: Kiko Bun

Friday: We Were Evergreen

Register NOW to join us on the beach this year.