Guinness Encourages New Zealanders to Celebrate St Paddy's Day Responsibly
Campaign developed by Special Group, Auckland encourages safe drinking for St Patrick's Day
For centuries, March 17th has given people a reason to come together to celebrate St Patrick's Day. Unfortunately, this isn't possible for many people around the world this year.

But for the many New Zealanders who are able to spend this St Patrick's Day together on-premises around the country, Guinness has created a street poster campaign via Special Group New Zealand, that encourages them to do so responsibly.

Says Tony Bradbourne, founder/CEO/CCO, Special Group: "We've worked with the Ministry of Health to help encourage the right behaviours when people head out this St. Patrick's Day. It's great to be able to play our small part, and to be in the position to be able to celebrate with friends in person this Wednesday. Cheers to that."

Says Rory Gallery, head of strategy, Special Group: "We are extremely lucky to be one of the few places in the world that can safely enjoy St. Patrick's Day in a pub. I personally can't wait, but I know it's important we all play our part in ensuring we get to continue to enjoy this unique position."

Says Charlotte Findlay, assistant brand manager, global spirits at Lion: "Getting together for a pint of Guinness is the quintessential St Patrick's Day experience. This year being able to have a pint with friends is even more special, and it's fantastic that Kiwis can get out and celebrate over a Guinness on this day."

When the QR code poster is scanned, people are directed to the Ministry of Health Covid-19 page that contains vital information around how we can all do our bit to sustain the covid-free world we've earned for ourselves.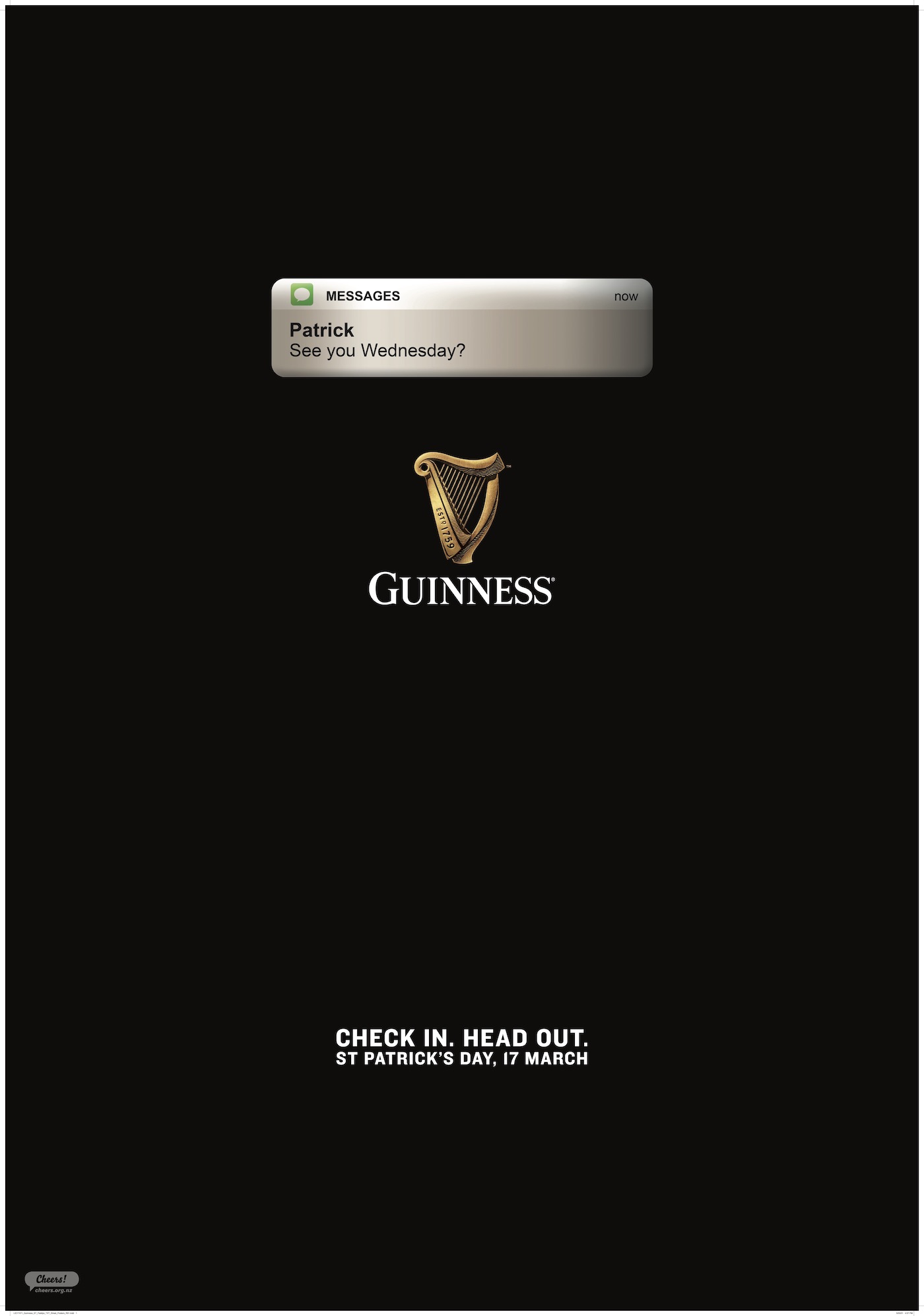 Category Marketing Director – Wine, Spirits & RTD at Lion: Adrian Hirst
Senior Brand Manager at Lion: Tim Norman
Assistant Brand Manager – Global Spirits at Lion: Charlotte Findlay
Creative Agency: Special Group New Zealand
Founder/CEO/CCO: Tony Bradbourne
Head of Strategy: Rory Gallery
ECD: Stu Mallarkey
Senior Copywriter: Tom Johnson
Copywriter: Scott Moyes
Studio Manager: Gavin Le Claire
Senior Business Director: Sam Hall
Strategist: Callum Orr
Business Executive: Madeleine Smart
Category: Alcoholic Beverages , Beers